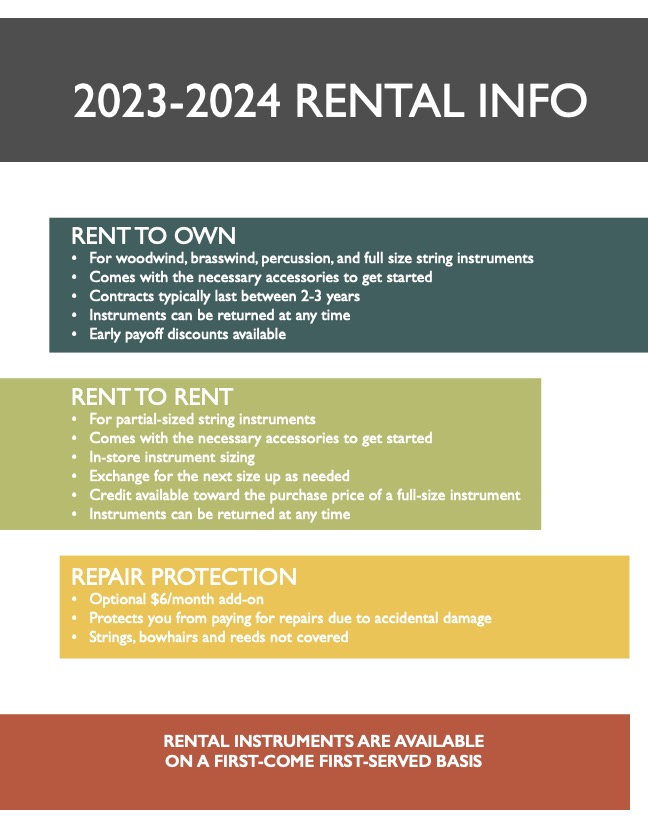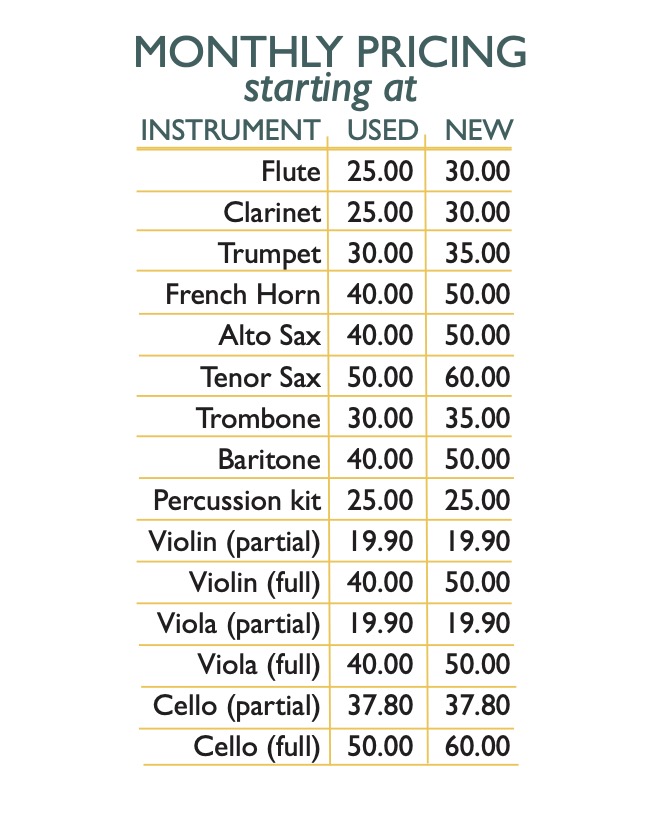 FAQ
How long do my contracts last
Typically rent to own contracts last between 36-48 months depending on the type of instrument. We do our best to keep monthly payments affordable by adjusting the time frame of the contract accordingly with the total price of the instrument.
What does the repair protection cover?
Repair protection covers different things for different instrument. For woodwind and brass wind instruments, this includes any accidental damage such as dents, pads, corks, etc. For stringed instruments, this includes accidental damage to the body of the instrument excluding the strings and the bowhairs. Proper care of the rental instrument is expected from the renter and we are happy to show you how to properly clean and maintain the instrument.
How do I make payments?
Payments can be made via check by mail, in-shop or over the phone by credit card, or online with our customer login feature.
What do I do if something isn't working on my instrument?
Call us or stop by the shop with the instrument and we can take a look at the issue.
What is included with my rental instrument?
At the start of the rental contract, you will be provided the basic supplies and necessary parts to get started playing your instrument.
Woodwind instruments come with case, 2 brand new reeds, cork grease, and a cleaning swab.
Brasswind instruments come with case, a mouthpiece, valve oil, and slide grease.
String instruments come with case, bow and rosin.
What are my options if I want to switch to a different instrument?
Full balance transfers are available to customers who wish to upgrade to an intermediate or professional level instrument of the same type. Full balance transfer is also available when upgrading from a partial-sized string instrument to a full-sized string instrument at which point the rent-to-rent contract can become a rent-to-own contract for a full sized string instrument. Balances are not transferrable between instruments of different types.